How to Prepare for Cancer Treatment Sessions
Changing a few things on your everyday life can make all the difference while you are going through treatment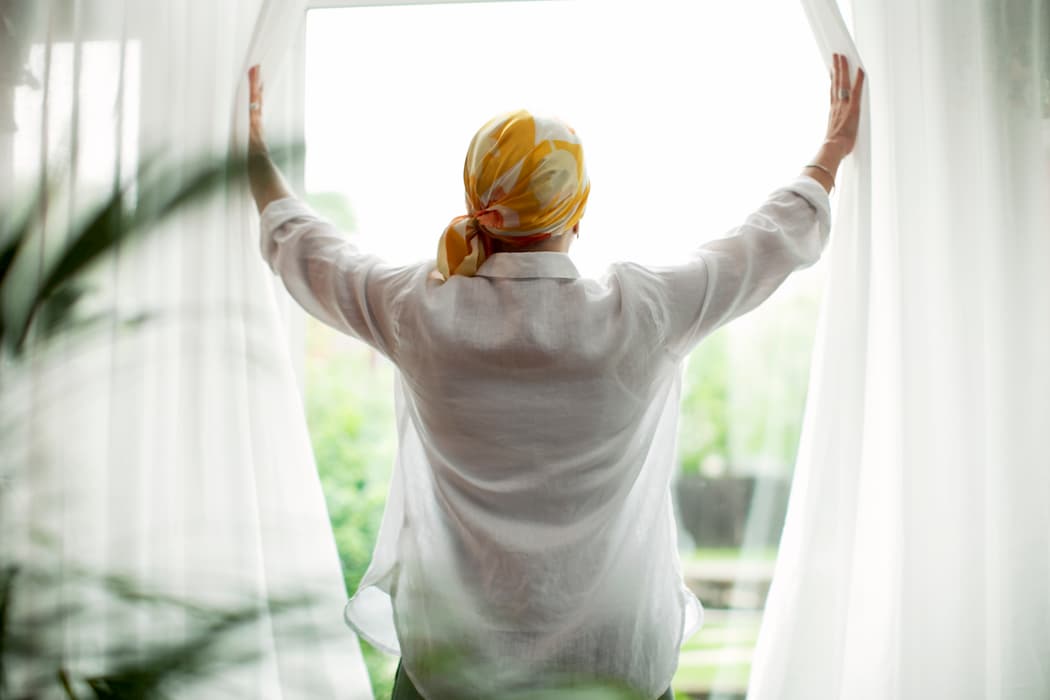 Several changes might happen during treatment, both physically and psychologically, as well as on your routine. Check below some information that will help going through this moment with more quality of life.
Having a healthier diet during cancer treatment
Cancer treatment can affect how the body reacts to certain food items and nutrients. Because of that, it's very important to keep a healthy diet throughout this period, making the body stronger and reducing chances of experiencing side effects.1 Here are a few tips to keep in mind:
Plan your meals - Although it seems like a lot of work, keeping a meal plan can actually cut down weekly effort, which also means less trips to the supermarket or grocery store. Try doing the following:1,2
Plan your meals and make a list of the ingredients you'll need;
Do the cooking in advance and freeze a few meals;
After buying vegetables, especially leaf vegetables, clean them right away and store them in separate portions in the fridge.
Prepare some snacks to go - Right now, the body needs more calories to maintain a healthy weight and respond better to treatment. Therefore, it's important to have some healthy snacks packed and ready when spending long periods of time away from home, especially on treatment days.1,2 Some healthy snack options are1:
Fresh or dried fruit;
Low-sugar cereal bars;
Mixed nuts, e.g., cashews, almonds and shelled unsalted peanuts;
Popcorn;
Vegetables sticks, e.g., carrots or cucumbers;
Granola and trail mixes;
Fresh juice;
Soup;
Healthy sandwiches;
Low-sugar isotonic drinks.
Don't forget to have a bottle of water at all times - Not only should you eat regularly, but it's also crucial to stay hydrated. No matter how much fluid the body can absorb from food and drinks that are consumed throughout the day, nothing replaces water, especially when there are side effects from the treatment, such as diarrhea and vomiting. Remember that the water must always be safe for drinking e.g purified or, if that's not possible, it needs to be boiled before consumption.1,2
What should you pay attention to while eating out?
Sometimes it may not be possible to have snacks ready while away from home, and you may need to eat at a snack bar or restaurant. However, you need to be careful, as not all establishments serve adequate and safe meals for people going through cancer treatment. Below are some tips for choosing a nice place to eat3:
Ask if they work with fresh or frozen meat, and favor places that prepare it by grilling;
Take care when eating raw fruit and vegetables in restaurants. It's not always possible to tell whether they've been properly washed;
Use sauces and dressings that come in packaging;
When choosing snack bar food, favor baked items over fried ones;
Avoid eating buffet food if possible because the items can be exposed for a long time in these places.
Other things to consider during cancer treatment
There are other details that people undergoing cancer treatment should pay attention to. For instance:3
Speak to the nurses and doctors if you feel any symptoms during sessions;
Ask someone to go with you on doctor's appointments and treatment sessions in case you feel too indisposed to get around by yourself;
Start wearing masks when you're not home as the treatment progresses;
Try keeping your skin clean and moisturized and using sunscreen;
Avoid taking extremely hot showers/baths, especially if your skin is dry;
Wear comfortable clothing;
Keep emergency phone numbers easily accessible.
References:
1 - Nutrition for people with cancer. Available at: https://www.cancer.org/content/dam/CRC/PDF/Public/6711.00.pdf. Access on: November/2019.
2 - Heal well - A cancer nutrition guide. Available at: https://www.aicr.org/assets/docs/pdf/education/heal-well-guide.pdf. Access on: November/2019.
3 - General oncology program - Patient care manual.